This weekend, my husband took Lily out of town for a couple of days, so I was on my own with the little one which is kind of rare (she isn't used to being solo). I saw
this post on the Fairfield House
and I knew I had try something similar with her. She is so into the princess fairy tales right now.
We set it up the "carriage" in a whiskey barrel. She loved it and couldn't wait to show her big sis.
We were also able to use up our pumpkin seeds for a crafty activity as well. I saw the project idea over a
Teach Preschool
and found further directions
here
. It is quite involved as you have to first dry out your pumpkin seeds, dye them and then dry them out again. But in the end the activity was a hit. The girls made some fall trees. The trunk is faux bois contact paper.
P.S. The eyes on the little owl are hole punch reinforcements. My dad was cleaning out his office and passed along his stash from the early 80s!
Have a great week,
{This post is linked to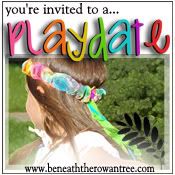 }