My pal alerted me to the fact that you can purchase lightweight beach towels at the dollar store (who knew?) and you can turn them into hooded towels.
I found my towels at Zellers [which is technically not a dollar shop, but carries much of the same stuff] for $2.98 a piece. The towels measure 22 inch by 45 inch. The pal found hers (blue) at Dollarama for $2 each.
While these towels would not appear on your wedding registry for that spa retreat bathroom, they are perfect for the daycamp backpack. They are lightweight and don't take up the entire pack.
I made two hooded towels with three towels. One towel (the middle one above) is used for the hoods. I cut two rectangles 10 inch by 22 inch. If you make your rectangle hood cuts on either side of the towel (you will end up with excess in the middle that you could use for another project), you can incorporate the finished edges in your project and you won't have any hem sewing. Easy peasy.
Here are the kids in their
Coleman Puddlejumpers
. I absolutely love these devices. They were recommended to me by a neighbour and I am so glad I purchased them. Sadly, neither of my kids love the water (boggles my mind), but the Puddlejumper has instilled some water confidence. Miss Lily was "swimming" independently this weekend. She was so proud of herself!
By the way, I have washed my towels and they have held up fine.
Thanks for stopping by and have a great day!
Be sure to check out all the projects at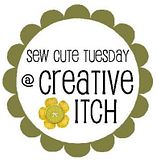 And all the projects for tots at