My sister, AJ, was inspired by
this post
on
Repurposeful
about refashioning T-shirts into kids' yoga pants.
AJ took a t-shirt and cut it up using one of my nephew's (age 3.5) existing pants as a pattern. The bottom hem of the T-shirt becomes the bottom hem of the pants and there are no side seams, only an in-seam. The red shirt is a second-hand American Eagle, ladies small.
Note: For the version above there is no waistband casing for the elastic. The elastic is visible (white).
The next pants were made from a men's small NYPD shirt and have elastic incased.
I wanted to make some World Cup inspired yoga pants for Miss Lily. She is really interested in the World Cup and the associated gear.
This France shirt was in my t-shirt stash.
[Mr. KJ threw it in the stash during the 2006 World Cup finals, after the Zidane incident. ]
I used AJ's method with some modifications. The key to this project is figuring out the logo placement on the pants. I really wanted the logo to run down the leg. This t-shirt was a men's large, so I had to make some adjustments and could not take advantage of the t-shirt's hem. Instead, I used four separate pieces (so my version has side seams) and I cut the t-shirt hem off and made it into casing for the waistband elastic.
Updated: here is a photo of Miss Lily in her yoga pants. Don't they look great with mary jane's?
Coincidentally, as a I am drafting this post, I see that
Create and Delegate
has put together a post on the
12 best t-shirt refashions
. Lots of inspiration there, including a very good tutorial with step-by-step photos by
KoJo Designs on comfy lounge pants
which uses four separate pieces (e.g. side seams) and a drawstring instead of elastic for the waistband.
Happy Monday and as always, thanks for checking in!
Be sure to check out all the great projects at: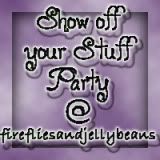 Me & My Bucket Wednesday