(98 and 3/4 percent guaranteed.)
- Oh the places you will go
I found the napkins on sale for $5.00 (for four!) at Homesense.
Here is the finished bag:
I am pleased with the way the two fabrics coordinate.
Miss Lily also wanted to make a card for our crossing guard, Al. Miss Lily is very interested in crossing guards. She knows their names, their stations, and is always interested in their whistles. We gave Al, our crossing guard, this handmade stop sign card (obviously, I am lacking one of those cricut machines) and a new whistle.
That's the scoop and don't forget to hug your teacher and crossing guard today!
Be sure to check out all the great projects at
Just Another Day in Paradise's Christmas in July Party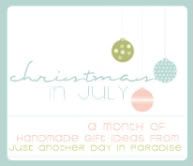 Sew Can Do
and