A told B, and B told C, "I'll meet you at the top of the coconut tree ..."
Here is another fun project spotted by sister and kite flyer contributer, AJ.
This project uses faux bois contact paper (I would love to devote an entire week of posts to faux bois contact paper posts - just love that stuff).
You can make a chicka chicka magnetic tree - well just because every homes needs one (feng shui requirement for the under 5 set). The
tutorial
is found on
Pre-K Pages
, a teachers' site full of ideas for preschoolers.
Turn these supplies
into this
and now your little one can work on their letters and words
There are also tons of chicka chicka-themed project ideas at
Making Learning Fun.
I post regularily on craft projects which are inspired by what we are reading in our family. I am going to extend an offer if you don't have your own blog and would like to write a post or share your project on this blog, feel free to get in touch with me. I believe there is alot of great ideas out there, and bloggers don't have them all (well I sure don't).
As always, thanks for stopping by!
This post is linked to the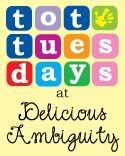 World Wide Classroom's Book Share