I have a special treat for you today. I have convinced my pal N to write a tutorial for her rice bag shopping tote. It is part Ikea-hack and upcycles a burlap rice bag.
I have posted about N's project ideas before. Her Tibet t-shirt pillow; the felt bow tie pasta; and fried eggs. She recently made these cute boys shorts using John Deere fabric using Simplicity Pattern New Look 6847(another great use for those licensed prints that I posted about here).
So now for the shopping tote!
Hi! I am KJ's pal N.
KJ and I have survived two maternity leaves each together (our youngest are only 4 months apart), and are fortunate to occupy offices next to each other. I do not consider myself much of a crafter, but KJ has inspired me to reconnect with my sewing machine after many years of neglecting it. Thanks KJ!
I am not a fan of sewing clothes, and there are only so many cushion covers and aprons one can make. So, I came up with this idea late one night last year just before Christmas when I should have been tidying up my dining room/sewing area for the holidays. I hope you enjoy it, and that I have inspired you to reinvent something you would have typically discarded . . . or at the very least, to eat more rice!
My mother was a gifted cook. She learned to cook at a young age in her native India. When she left India in her early twenties, among the many talents she brought with her was her love of cooking. (She also loved to sew.) Over the years, she came to be known among her friends for her mouth-watering Hyderabadi biriyani – a traditional rice dish from South central India typically made with lamb or chicken.
Her rice of preference for the biriyani – No. 817 Elephant Brand Basmati Rice – is sold in a burlap rice sac (10lb bag).
The bag on its own makes for a unique tote bag. But I found the bag a bit small and the handles short. So I set out to alter it to better suit my needs.
First, I removed the zipper and the handles from the burlap bag. (There are no photos of this step.)
I then opened the side seams. I was left with one long rectangle, which I cut into two equal pieces.
The next step was to treat the burlap's raw edges. The burlap tends to fray. My first attempt at sewing with rice bag burlap was a disaster because the stitches simply would not hold. After giving it some thought and some internet research, I came up with what I believe to be a good solution.
I applied
Heat n' Bond Iron Vinyl
(purchased at Fabricland) to the non-printed side of the burlap (note: this will become the inside of the bag; therefore, the inside of the bag will have a nice vinyl coating). The Heat n' Bond product is easy to apply and did the trick. I also applied Fray Stop to the edges for good measure.
I had the foresight to attach the handles first. I used blue nylon webbing and pinned it to each piece of burlap. I wanted to preserve the writing on the burlap, so my straps are not evenly spaced on one side (no biggie).
Make sure you have sufficient webbing (height of burlap sac X 2 + enough for your hand or shoulder) X 2 plus seam allowance to tuck under the bottom. Here is a closeup of the handles.
Depending on the type of handles/straps you prefer, you may be able to do this after having assembled the bag. For example, I envision a future bag using grommets and rope as handles (this would involve a different technique - grommets at the top of the burlap). I think these sort of handles would complement the burlap nicely.
After I applied the nylon handles, for the bottom and sides of the bag, I wanted to incorporate this IKEA DIMPA reusable polypropylene shopping bag. The bag is a generous size.
I disassembled the IKEA bag, and was left with 3 pieces -- the front, the back and one long rectangular piece that made up the two sides and the bottom of the bag. On all three pieces I was left with a nice ½" hem that had already been neatly pressed to the wrong side.
So I made a matching ½" hem (simple finger pressing was sufficient) along the sides and bottom of the two burlap pieces, and topstitched the burlap pieces to the one long rectangular piece which makes up the bottom and the sides (you save the front and back IKEA panels for a future project).
Here is my finished burlap rice bag shopping tote.
Some post-project thoughts:
I have not tried sewing with burlap as one would sew with regular fabric, that is, right sides together. I have concerns that with a project such as this one and where the burlap is of a heavier weight that sewing this way would lend itself to fraying. If you do choose to sew the burlap right side together, I would recommend using a minimum ½" seam.
I would recommend sewing the seams twice. This is something I meant to do with this bag, but my machine was acting up so I quit while I was ahead.
Using a denim needle is probably wise. Seeing as how I have never changed the needle on my 7 year old machine (a big no-no I know), I did not think of it before tackling this project.
Similarly, if you have a walking foot, I recommend using it. (Although I have one, and did not think to use it either. This may explain why my machine was acting up!)
I scouted many reusable shopping bags for this project, and found the IKEA DIMPA most suitable because first, it is made of polypropylene, and second, the sides and bottom are one piece. Having this one long piece saves you having to piece together the sides and the bottom. I will have to do this for any future projects however since IKEA has discontinued the DIMPA bag.
I had two burlap sacs (i.e. what was 20 lbs of rice), and gave one to KJ, so I have a lot of rice to eat before I can tackle this project again.
Thanks again for stopping by and supporting The Kite. Your pal, N.
Thanks N. I love this bag and can't wait to make my own!
{UPDATE: This post is linked to
Funky Junk Interior's Grain Sack Link Up
, be sure to check out all the great projects using grain sacks.}
This project is linked to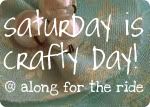 Thursday at House of Hepworths
Wednesday at Me and My Bucket