Our girls love this book.
Lacing cards are a first step towards learning to sew.
Miss Lily recently took interest in these dollar store lacing cards (pictured below, I covered them in text book vinyl to make them more durable). I started to think about how easy it would be to make our own lacing cards.
Together, we picked out a few of her own and her little sister's past finger paintings and bingo dabber masterpieces (you know that stash of construction paper that you are not quite ready to part with?). For instance,
We cut up the paintings and made a few scenes from the book on cardboard.
Quack! Quack called the duck, "Want to go for a swim?"
"Whoo? whoo?" asked the owl. "Who built this beautiful web?"
I roughly sketched the illustrations freehand based on the book and cut the pieces from the artwork. However, if you browse through the
Making Learning Fun
site, there are several printables all based on the Very Busy Spider (as well as a few other Eric Carle stories) so you could use those as a starting point.
After the collage scenes were completed, I covered the cards in vinyl textbook adhesive and punched the holes using a heavy duty punch.
Now a very busy spider can make a really nice web.
It had been a very, very busy day.
This approach to lacing cards has many applications. For example, you might want to print out a few of your favourite family photos, stick them to cardboard and cover with vinyl. Another possibility would be to use some old flashcards and punch around the perimeter.
That's the scoop. I am grateful you took the time to stop by.
Update: This post is linked to the
World Wide Classroom's Book Share
, please stop by and check out all the great literacy projects and thanks so much to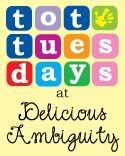 for featuring this post!
This project is linked to