I posted about the Gnomes
here
.
The Fairies are now complete.
We are hoping they will bring springtime.
Supplies: I was inspired by the Magic Onions'
fairies
. Ours are made from
wooden angel turners,
artificial flower petals (sadly, I don't have a stash of dried bouganvillea - one of my favourite flowering shrubs I have special memories of a trip to Egypt when the bougies were in full bloom all along the Nile), and butterfly embellishments for the wings. The yellow hair is embroidery floss, the purple hair is wool, and the one of the right is braided twine. The crowns are just metallic twist ties. Everything is affixed to the wooden peg with
FABRI-TAC
. Fabri-tac is my absolute favourite glue. I painted the wooden faces white, but that was not intended. Someone scribbled on them with a large marker.
A couple more shots
The wings
Next project: homes for the fairies and gnomes
This is one of my favourite books on fairies: Richard Doyle's In Fairyland Pictures from the Elf World. (Warning: It can be difficult to find.) My BFF gave me a copy when I was seven and I treasure it. It is a treat to share it with my daughters.
Amazon has a couple of Richard Doyle colouring books,
here
and you can download some lovely alphabet coloring pages (although not illustrated by Doyle)
here
.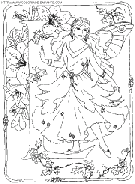 Have a magical day,